Select a model
for detailed explanation
of each model






Hand Bend Full Exhaust


Machine Bend Full Exhaust

Slip-On Muffler

Off RoadEMotard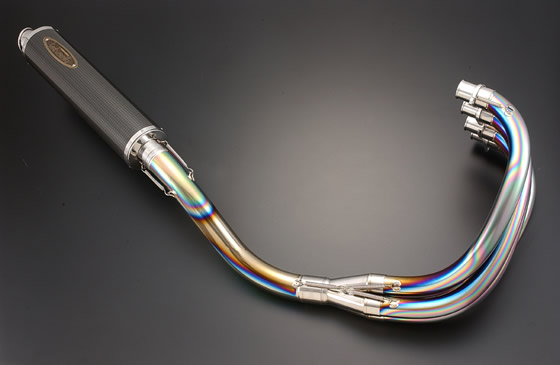 ALL Titanium Exhaust system Type-1
Highest Quality with Craftsman hand made.
Heat bended Titanium pipes are all hand bended and showing the beautifully their multi-colored surface.The pipe bending shape is showing very emotional line as like a artistic craft work not only a product.
You must be impressed with its lightness and the power potential-up.
¡Standard Type:
JP324,280iInclude VAT10%j
¡Higher Up Type:
JP342,430iInclude VAT10%j
Note: This product was made after confirmation of the order.
It takes about 1 month for the delivery
[Flange]


This part is one of the important points on Techserfu product.

The stainless steel flanges are designed for individual bikes and billet cut out. The interior has been designed tapered shape,

It takes very smooth air-flow to the exhaust pipes.

[Exhaust pipes]


The artistic craftsman made. Itfs hand-made heat-vending.

The experienced craftsman only could make the exhaust pipes, keeping real-circle section on each part. The burnt color shows very beautiful surface.

yJointz


The precision is the most important. Also we are keeping very beautiful finish with TIG welding. A pyramid designed 4 into1 construction is providing a very smooth air-flow and natural power feeling. Please enjoy Techsurfu Magic.

yTail pipez


The air-flow from exhaust pipes come through to the big diameter tail pipe. We offer the beautiful stream line for individual bikes.
You can choose the silencer from 3 types


The PERFECTLY STRAIT constructed silencer sings eTechserfu Musicf You can choose the surface finish from the Polished Titanium,
Solid Titanium .


From left:
@Polished Titanium
@ Solid Titanium

œ
When you order
ƒÓ
100
@ƒÓ
110silencer installed models,
You can choose CFRP Solid Titanium and Polished Titanium Outer
œ
All Titanium Exhaust Type 1 : Titanium Construction Silencer is normally installed
Specifications

Exhaust Part :

Hand bended Mirror finish Titanium

ƒÓ

42.7
(Ex pipe/Flange spring joint mount)

Joint Part:

Pyramid Triangle Construction 4 into 1

Tail Pipe Part :

Mirror finish Titanium Hand

-

Bended

ƒÓ

60.5

Silencer Part :




ƒÓ

100x400mm /

ƒÓ

100x450mm(Solid Polish only)


ƒÓ

110x480mm

Silencer Outer:

Solid Titanium / Polish Titanium

Sound Volume:

94 db (installed baffle)