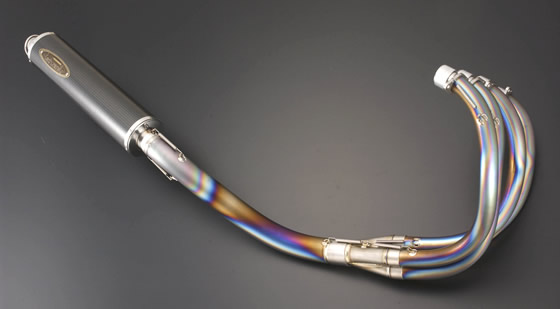 ALL TITANIUM EXHAUST Type-‡U
Heat bended Titanium pipes are all hand bended and showing the beautifully their multi-colored surface. The pipe bending shape is showing very emotional line as like a artistic craft work not only a product. As like as Type1, It takes Super light Titanium pipe, back-shield welding. We offer very beautiful finish.
[Type -2] takes ƒΣ38 pipes for exhaust pipes (Type-1 : ƒΣ42.7j
Easy power feeling and high performance with a reasonable pricing.
'

Standard Type:

JP227,480 (Include VAT 10%)

'

Higher Up Type:

JP235,950 (Include VAT 10%)
SPECS
[Flange]
This part is one of the important points on Techserfu product.
The stainless steel flanges are designed for individual bikes
and billet cut out.

[Exhaust pipes]
The artistic craftsman made. Itfs hand-made heat-vending.
The experienced craftsman only could make the exhaust pipes, keeping real-circle section on each parts. The burnt color shows very beautiful surface.

[Joint]
The precision is the most important. Also we keeping very beautiful finish with TIG welding . A pyramid designed 4 into1 construction is providing a very smooth air-flow and natural power feeling. Please enjoy Techsurfu Magic.

[Tail pipe]
The air-flow from exhaust pipes come through to the big diameter tail pipe. We offer the beautiful stream line for individual bikes.
You can choose the silencer from 3 types

The PERFECTLY STRAIT constructed silencer sings eTechserfu Musicf You can choose the surface finish from the Polished Titanium,
Solid Titanium.

From left:
Polished Titanium
Solid Titanium

œWhen you order ƒΣ100@ƒΣ110silencer installed models,
You can choose CFRP Solid Titanium and Polished Titanium Outer
œ Polished Version : ex-pipes to tail pipe (hand bended) Plus JP\5775 (Include VAT)œ Full spec Titanium Silencer : tail pipe joint part, end part, interior punch-Titanium,Plus JP\11000 (Include VAT)
Specifications

Exhaust Part:

Hand bended Mirror finish Titanium ƒΣ38
(Ex pipe/Flange spring joint mount)

Joint Part:

Pyramid Triangle Construction 4 into 1

Tail Pipe Part :

Titanium Hand -Bended ƒΣ60.5

Silencer Part :




ƒΣ

100x400mm /

ƒΣ

100x450mm(Solid Polish only)


ƒΣ

110x480mm

Silencer Outer:

Solid Titanium / Polish Titanium

Sound Volume:

94 db (installed baffle)